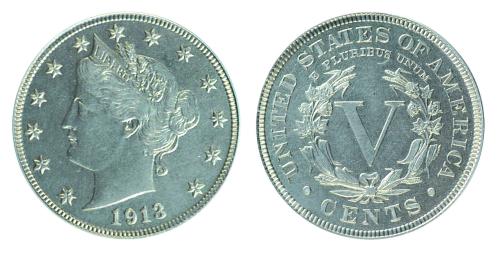 (Long Beach, California) – The finest of the five known 1913 Liberty Head nickels, the Eliasberg/Lee specimen certified PCGS Proof 66, has been sold for $4,150,000. It is the highest price ever paid for one of the legendary coins and the second highest price ever reported for any rare coin.
The famous coin was sold by Ed Lee, President of Lee Certified Coins, Ltd. of Merrimack, New Hampshire, to Legend Numismatics of Lincroft, New Jersey. The transaction was brokered by John Albanese, President of John Albanese Numismatics of Far Hills, New Jersey.
Announcement of the sale was made June 2 at the Long Beach Coin, Stamp & Collectibles Expo where the coin was a featured exhibit at the Professional Coin Grading Service booth.
"We believe in the rare coin market, and we're in love with classic rarities. This is the most famous U.S. rarity," said Laura Sperber, Co-President of Legend. The two other principals of the firm are George Huang and Bruce Morelan.
"Owning a 1913 Liberty Head nickel is unlike owning any other coin in the world. Frankly, we were sorry we sold the Olsen/Hawaii Five-O specimen last year. We still miss it," said Sperber. That coin was purchased by an unidentified buyer for $3 million in May 2004 in a transaction also brokered by Albanese.
Lee purchased his celebrated coin from California collector and sports agent, Dwight Manley, in July 2003, for nearly $3 million. Seven years earlier, it was the first rare coin to break the million dollar mark at a public auction when it sold for $1,485,000 as part of the Louis E. Eliasberg Sr. collection in 1996.
After he purchased it two years ago, Lee declared: "After 47 years in the business, this coin is the highlight of my career; there's no where for me to move up in the coin business after owning it. I feel that the Eliasberg/Lee specimen of the 1913 Liberty Head nickel is the number one rare U.S. coin, as do many top collectors and dealers. It has the combination of ultra rarity, great fame and the finest pedigree possible - Eliasberg - the only man in history to assemble a complete collection of United States coins. That's something even the U.S. government failed to do."
Lee publicly exhibited the coin twice, at the Florida United Numismatists convention in January 2004 and then the most recent Long Beach Expo where announcement of the coin's sale was made. Lee, who was traveling in Asia at the time of the announcement, said he intends to acquire other major rarities because he is "a believer in the coin market long term and I want to stay in it."
"With just a handshake, we had a deal to sell the coin for $4.15 million," said Albanese who brokered the transaction in late May. "If you sell a piece of property for $4 million you'll probably have a contract that runs dozens of pages. But in numismatics you can have complete assurance with simply a handshake."
According to David Hall, PCGS Founder and President, the known previous owners of the coin are: Former United States Mint employee, Samuel W. Brown, who first revealed existence of the coins in 1920. Dealers August Wagner, Stephen K. Nagy and Wayte Raymond; legendary collector Col. E.H.R. Green; St. Louis numismatists Burdette G. Johnson and Eric P. Newman owned the coins from the early 1920s to early 1940s.
Newman was the last person to own all five coins, breaking up the group in the early 1940's. This specimen was sold to Abe Kosoff and Abner Krieisberg of the Numismatic Gallery in New York City and subsequently to fabled Baltimore banker, Louis E. Eliasberg, the only collector to ever assemble a complete collection of U.S. coins.
It was purchased in a 1996 auction by dealer Jay Parrino of Kansas City, Missouri who sold the coin at an auction in March 2001 when it was purchased by Dwight Manley of Newport Beach, California. Manley sold it to Lee in a private treaty transaction in July 2003, and Lee subsequently sold it to Legend Numismatics in May 2005.