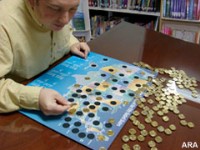 (ARA) - When the U.S. Mint launched its State Quarter program back in 1999, the number of coin collectors in this country exploded astronomically. According to the U.S. Mint, State Quarters are currently collected by 130 million people, which translates to about one person in every home in America.
With just two years left to go in the 10-year program, those who got a late start are having a hard time finding the early coins. All of the quarters minted between 1999 and 2005 are now out of issue.
You could try to build a collection by pulling quarters out of the change you get at the store, or by making regular visits to the bank and asking the tellers to go through their open quarter rolls, but a better way to do it is by turning to a company like The Morgan Mint
"Our business has increased tenfold ever since the State Quarter program launched," says Walter Kole, director of business development for the company that specializes in currency, collectible coins and colorized coins. "It seems the program has gotten a lot of people excited about coin collecting."
While uncirculated sets from the early days of the program (no longer available from the U.S. Mint) are hot sellers, special edition sets of the coins that are legal tender issued by the U.S. Mint and colorized by The Morgan Mint
are popular as well.
You can buy regular, colored or gold-plated State Quarters at the Morgan Mint
. They also have coin gifts for all occasions
, (like Christmas perhaps…)