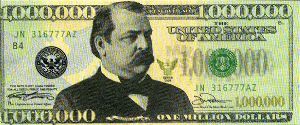 Investigators say they don't know where an Augusta man picked up the much-publicized $1 million bill that he tried to open a bank account with but added that it has been seized and is now in police custody.
Alexander D. Smith, of the 500 block of Fairhope Street in Augusta, was charged with forgery after the 31-year-old man presented the counterfeit bill to a teller at Regions Bank in Clearwater Monday afternoon, said Aiken County Sheriff's Office spokesman Lt. Michael Frank. The bogus bill, however, is actually a religious tract, according to national media reports. Last year, the Secret Service became involved in a North Carolina investigation after a bank customer there tried to deposit one of the phony bills. Agents tracked the bill to a Denton, Texas-based ministry where they'd found more than 8,000 of the Grover Cleveland bills.
In June of last year, a federal judge in Dallas decided it was appropriate for the Secret Service to seize the tracts, despite the ministry's opposition. The government argued that the bills are the same size as Federal Reserve notes, use a portrait of President Grover Cleveland and have the distinctive peach-and-green coloring of new currency, as reported by the Dallas Morning News in 2006.
At the time, an attorney working on behalf of the ministry argued that no one would make the mistake of thinking the money is legal tender, calling the possibility "absurd." However, the money was attempted to be passed in Pittsburgh last month and then again in Clearwater this week.
The employees in Pennsylvania and in Clearwater, however, refused to accept the bills. The largest denomination of currency ever printed by the Bureau of Engraving and Printing (BEP) was the $100,000 Series 1934 Gold Certificate featuring the portrait of President Woodrow Wilson, Frank stated in a press release.
Read the Original article by Karen Daily