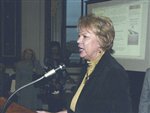 President Bush nominated Terry Neese (shown at right) July 29 to be the 38th director of the U.S. Mint, one of the oldest agencies in the federal government. She will succeed outgoing Mint Director Henrietta Holsman Fore if confirmed by the U.S. Senate.
A report in the July 30 issue of the daily newspaper The Oklahoman of Oklahoma City, quoted a spokeswoman for Neese as saying that President Bush had called her and asked her to serve.
Fore was sworn into her new position in the State Dept. Aug. 2.
David A. Lebryk, who was deputy director of the Mint under Fore, has been named acting director until a new director is in place.
Neese, of Oklahoma City, founded Terry Neese Personnel Services 30 years ago. She characterizes herself as "an entrepreneur of five companies, anchored by the personnel industry," in businesses that include "farming and ranching, Gulf Coast real estate properties and a public policy strategy firm."
One of her companies, GrassRoots Impact, is a corporate and government public policy strategies firm specializing in rapid response surveying capabilities.
Neese is also president of Women Impacting Public Policy, a national bi-partisan public policy organization advocating for women in business. WIPP has more than 505,000 women business owners and women in business as members.
Neese was recognized in the September 2000 issue of Fortune Magazine as one of the Power 30 – the most influential small businesspersons in Washington.
President George Herbert Walker Bush appointed Neese a commissioner to the National Advisory Council on Indian Education. President Clinton reappointed her. She says her "roots to the Cherokee Indian community run deep."
The first President Bush also appointed Neese to serve on the Small Business Administration Small Business Advisory Council.
She made history in 1990 as the first woman nominated by a major political party for lieutenant governor of Oklahoma.
(via Numismatic ENewsletter)