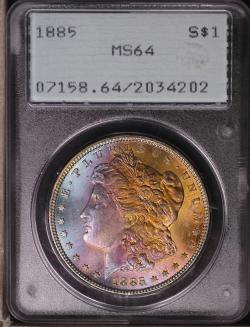 (Irvine, CA) - Pioneering Internet auction service, Teletrade, celebrated its 2,000th sale on February 13 by making a donation to the American Numismatic Association's Young Numismatists (YN) program and announcing special savings for successful bidders in that sale and as well as a future auction.
"We've now had 2,000 successful sales of certified U.S. coins since Teletrade's founding in 1986, and that's more than any other numismatic auctioneer," said Paul I. Song, Vice President. "In addition to the donation to the ANA, we gave every successful bidder in the 2,000th sale free shipping and handling."
As part of the continuing celebration in 2005, Teletrade also announced that every successful bidder in sale number 2005, to be held on Wednesday, February 23rd, will have $20 immediately deducted from their invoices.
"We are rewarding our loyal customers and supporting the ANA by donating $2,000 worth of numismatic reference books for the YN programs," said Song.
"Providing copies of the 2005 edition of A Guide Book of United States Coins, the popular 'Red Book,' is a compelling and appropriate donation for such an important organization as the Young Numismatists, where tomorrow's numismatic leaders are being trained and nurtured."
Teletrade conducts an average of three Internet auctions of certified U.S. coins each week, with special monthly and quarterly sales. Over 100,000 collectors, dealers and investors have registered on the free, easy-to-use web site, www.Teletrade.com.
"Our consignors enjoy the company's fast turnaround time, generous cash advances, high prices-realized and the unblemished record of delivering their settlement checks," Song emphasized.
"In 19 years we've grown from a start-up company with a great idea to the world's premiere numismatic internet auction house because we do more for our consignors and bidders. They know Teletrade is the place to buy or sell certified U.S. coins, whether they're $10 or $100,000 each."
The 2,000th sale was a "Sunday Rainbow Auction", literally our most colorful and one of our most popular specialty collecting categories with almost every coin offered toned or rainbow-hued. The Rainbow Auctions are conducted quarterly. Premier and Contemporary Classics sales are held each month featuring, respectively, the finest and rarest United States coins and modern rarities from the 1930s to the present.
Teletrade's buyer's fee is only 10 percent, while most other numismatic auction companies charge 15 percent; one-third higher fees than Teletrade. In addition, consignors can save more than 40 percent on certification costs by submitting their coins to Professional Coin Grading Service (PCGS) or Numismatic Guaranty Corporation (NGC) through Teletrade.
Visa, MasterCard, American Express and Discover credit cards are accepted with no additional fees.
Teletrade is a division of Greg Manning Auctions Inc. (NASDAQ: GMAI). For additional information, contact Teletrade at 18022 Cowan, Ste 107, Irvine, CA 92614-6805. Phone: (800) 949-2646. E-mail: [email protected].